Cisco Catalyst 9800 Series Wireless Controllers

Your network, your way

Catalyst 9800 Series wireless controllers combine the best of RF excellence with IOS XE benefits. These are the industry's most reliable and highly secure controllers, ready to deploy anywhere--including the cloud of your choice. They are compatible with the new Catalyst 9100 Series access points that support Wi-Fi 6.
---
Benefits of 9800 wireless controllers
Always On
Whether planned or unplanned, network outages are painful. With Catalyst 9800, features such as high availability and seamless software updates help keep your network up and running.
Secure
Every network needs a strong line of defense. With its secure boot, runtime defenses, imaging signing, and more, Catalyst 9800 helps secure your devices, users, and infrastructure.
Flexible deployment
Choices for where and how to deploy your network are important. Catalyst 9800 provides options to enable your wireless connectivity on-premises, in a public or private cloud, or embedded on a switch.
Cisco Catalyst 9800 Series wireless controllers

For small to medium-sized campus deployments
Up to 2000 APs, 32,000 clients, and 40-Gbps throughput
Hot patching, time saving and hitless upgrades
Advanced, on-demand telemetry

For large campus and service provider deployments
Up to 6000 APs, 64,000 clients, and 80-Gbps throughput
Hot patching, time saving and hitless upgrades
Advanced, on-demand telemetry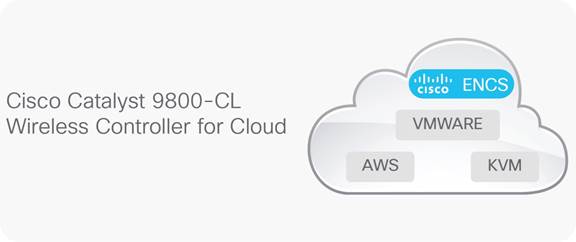 Deploy in private or public (AWS) cloud
Up to 6000 APs and 64,000 clients
Hot patching, time saving and hitless upgrades
Advanced, on-demand telemetry

Catalyst 9800 embedded on a Catalyst 9000 switch
Ideal for SD-Access-enabled distributed branches and small campuses
Up to 200 APs and 4,000 clients
Hot patching, time saving and hitless upgrades